BLU PEARL, Shopping Center, PHUKET, thailand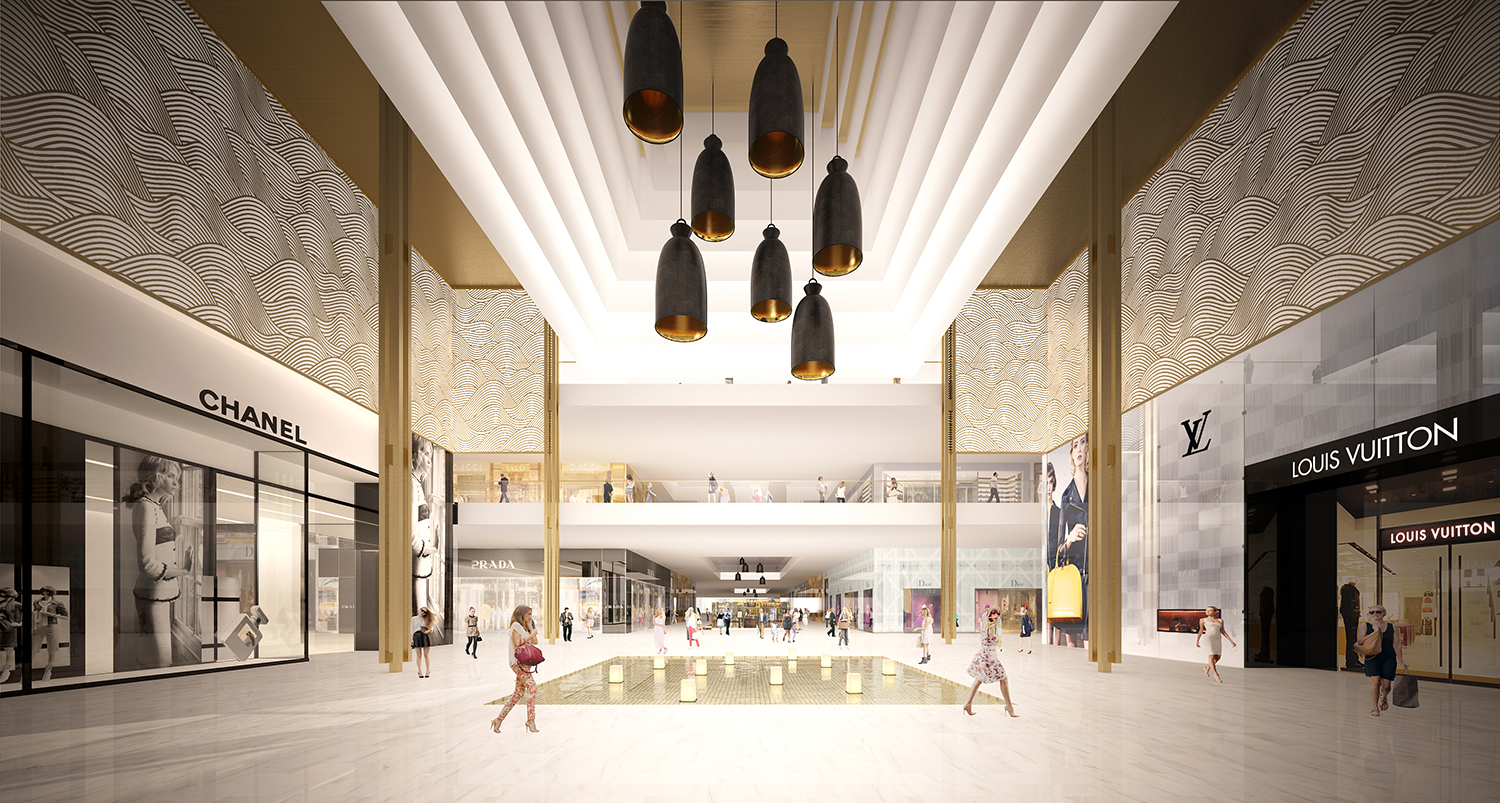 A new key project of The Mall will soon be built in Phuket. Ideally located between Phuket town / airport and Patong Beach, one of the most popular beaches, it will become a major attraction on the island. Paired with a large theme park, a convention center, a large bazaar and a theater, the project aims to reach different types of people and spread throughout the region.
For this project, we wanted to keep up the inspiration of Thai culture: its pattern, its luxury and its colors, crafts ... applying them in the general architecture of the building but also for the interior design.
The main facade highlights the windows of the future luxury brands. Our first inspiration for this facade was a thai pattern, very famous in the country, which symbolized the sea and the history of the country. We declined it with different materials but with the same color. Every tourist in his car or in his bus will see this temple of luxury with his 3 main portes cochères in the middle of the jungle.
The interior of the shopping center is divided into several aisles, each with its own atmosphere. The colonnade is the place of luxury, refinement and grandiosity. Upon entering the Resonance Hall, the visitor will be conquered by the elegance of the materials selected and the indoor climate: marble, fountains, tropical vegetation.
At the end of the building and directly linked to the theme park, visitors could eat in the food court while contemplating a large waterfall. Indeed, the Blu Lagoon will be the natural heart of the project. Water, nature, birds mingle with elegant interior design : columns with natural patterns, teak flooring around voids, special lighting, furnitures...
LOCATION: Phuket, Thailand
CLIENT: The Mall Group Co. Ltd
PROGRAM: 4 levels shopping center, department store, multiplex, grand bazaar, water park, theatre, convention center
SCOPE: Master Planning, Architecture, Interior Design
PROJECT TEAM: Laetitia Bernouis, Arda Beyleryan, Victoire Bonniol, Flavia Broi, Florence David, Emmanuel Georgin, Emmanuel Moussinet
ASSOCIATE ARCHITECTS: [au]workshop (Fort Collins, Colorado), D103 (Bangkok)
LANDSCAPE DESIGN: Loup & Co, Xavier Loup (Paris)
STRUCTURAL ENGINEER: CEDA (Bangkok)
M&E ENGINEER: EMSIGN (Bangkok)
COST: 400 million €
PROJECT AREA : 120,000 sq.m.
COMPLETION: 2018