This project is located in Patong, on the main beach road. The main was to deal with the very constraining local regulations and the client requirements: distance between buildings of 6 meters, buildings should have a 2000 sq.m maximum area including basement, and heigh it limited to 12m.
The aim for this project was to create a more peaceful and poetic atmosphere than in other hotels and retail areas in the very touristic area of Phuket, using thaï materials and architectural codes for the hotel (red wood, lanterns) mixed with a more simple and modern composition (white concrete base for the retails with gold mirror inclusions) for the retail podium.
The project is divided in 2 zones, one hotel area exclusively, and one mixed zone with retail and hotel;
We decided to turn all the project towards the sea, to preserve the view for the hotel rooms, the pool and bar/restaurant, and having a real accessibility from the street for all the retail area.
The core of the project is an open event area, protected by a mirrored and irregular roof, giving visitors a deformed reflection of the floor which is made of a very shallow reflective pond with F&B islands. It can be dried out to organize larger events.
The car flow is directed to the back of the land, with a direct access from the street to the parkings in the basement to give the pedestrian a total freedom of movement.
On the ground floor the set back between the buildings allows to create ponds to refresh the hot climate of Phuket. At night, illumination for the whole project is made with lanterns floating on the water and suspended from the bridges in between plots, in a thai contemporary mood.

In the central mixed area, retail and hotel are following the boundary line of the land, with retail on the ground floor and the hotel rooms on the 3 upper levels.
In the 2 central buildings facing the event space, retail occupies 2 floors, with the hotel pool bar and restaurant on the roof with a 180° view on the sea, allowing the hotel rooms at the back to keep the sea view as well.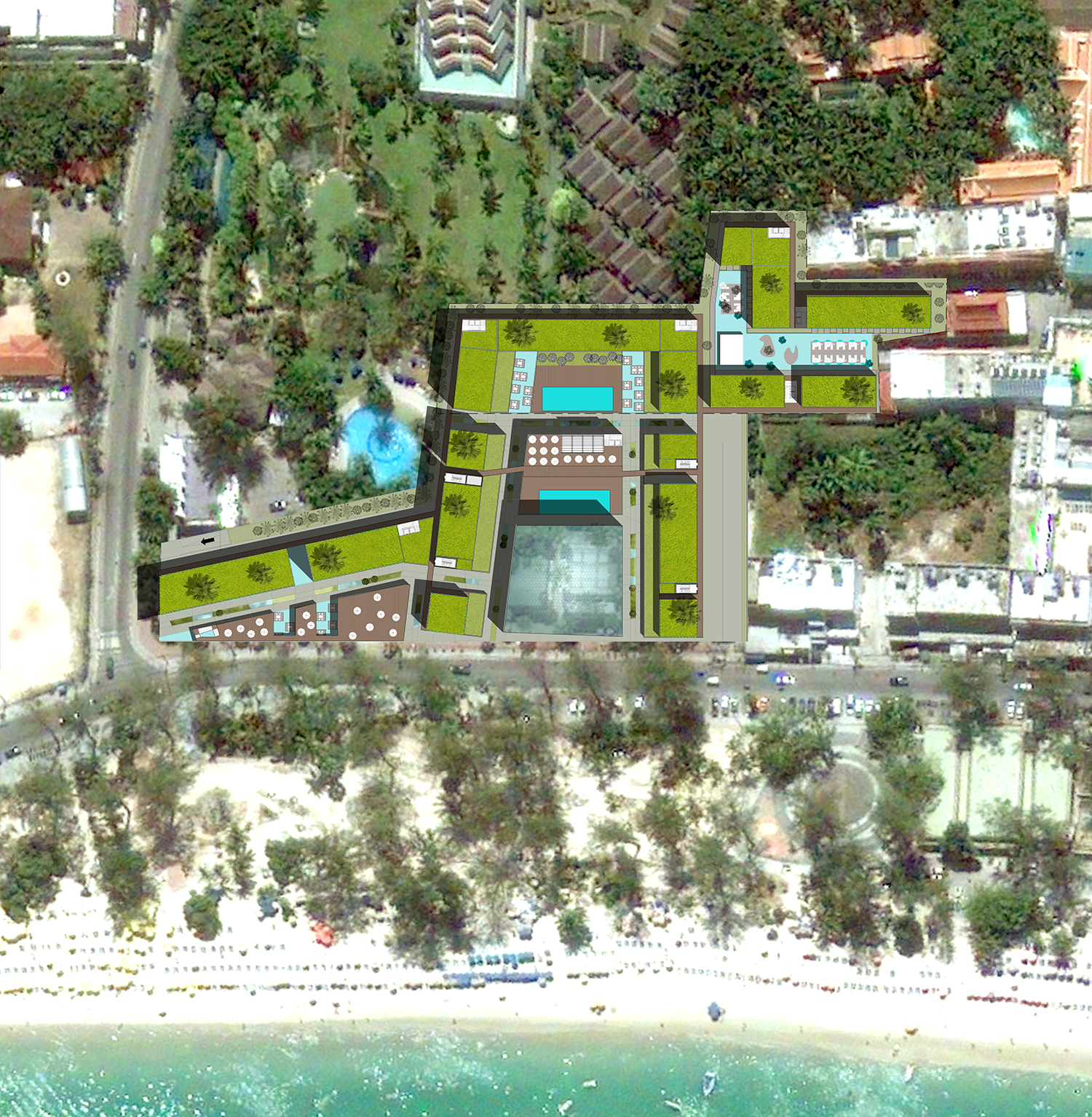 LOCATION: Patong Beach, Phuket, Thailand
CLIENT: Rayaburi Group
PROGRAM: 4 Stars 225 rooms hotel complex, shopping gallery (8000 sq.m), covered event space (1000 sq.m)
SCOPE: Master Planning & Architecture
PROJECT AREA: 13.500 sq.m
PROJECT YEAR: 2012